The 7 Best Beginner Vegetables For New Gardeners
Tomatoes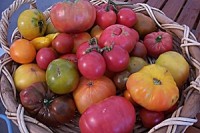 Tomatoes
are very easy to grow and do not require much attention other than the occasional watering and maybe some light
pruning
. There are many tomato varieties to choose from, but the tastiest tomatoes are typically heirloom varieties. For a beginner, I recommend you start with
Brandywine Organic Heirloom Tomatoes
Peas
Peas are very delicious and a snap to grow. Just sow the seeds in the vegetable garden, supply water, a little fertilizer and a trellis for support. You can also grow bush varieties of peas that do not need support, such as the
Organic Cascadia Bush Snap Pea
.
Radishes
Radishes are one of the easiest and quickest vegetables to grow in the garden. They typically mature in 20 to 30 days depending on the particular variety you grow. Just directly sow the seeds in the garden, provide water and you'll have some great radishes in no time! I suggest you try
Organic German Giant Radishes
for some really big and really fun radishes.
Green Beans
Green beans (sometimes referred to as pole beans or bush beans) are a great vegetable to grow if you are just starting your first vegetable garden. Pole beans typically grow as a vine and need some type of a support, such as a
trellis
. Bush beans grow just as the name implies, as a bush. Both types require little know-how and attention. For a fun and easy variety of bush beans, try
Organic Blue Lake Bush Beans
.
Yellow Summer Squash
It is hard to beat yellow summer
squash
for its intense growth and good production.It is very easy to grow, but can take up a lot of space. The plants can take up as much as four feet square. For an abundance of summer squash in your vegetable garden, try
Early Summer Crooked Neck Squash
.
Zucchini
Zucchini
are also considered summer squash and grow much the same way as yellow squash. They are also very prolific and can grow very large. A great variety of zucchini to start with is
Organic Black Beauty Zucchini
for good size and taste.
Eggplant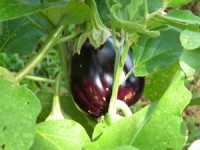 Eggplant
is in the same family as tomatoes and are just as easy to grow. Eggplant can be grown from seed, and may require some
support
when they get very large. One of my favorite eggplant varieties is
Organic Black Beauty Eggplant
.
Discuss in our forums