Growing Cool Weather Kale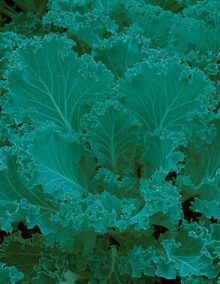 Kale is a cool weather plant that can not only withstand some frost, it actually improves the taste. While many gardeners pass it by for more popular vegetables, it's a good, dependable plant that supplies vitamins and minerals that are so important during the winter months. Kale is the Northern cousin to collard greens, withstanding cold where the other likes the heat. Kale can withstand temperatures down to 20 degrees F., sometimes as low as 10 degrees F. with a layer of straw as protection. It doesn't do well in temperatures above 80 degrees F., but that leaves a lot of days in-between to sow and harvest this easy to grow vegetable. You'll find kale a welcome addition to soups, stews, salads, stir fries, and especially potato dishes. Toscana soup is a hearty dish that uses potatoes, garlic and kale for a traditional Italian meal. Kale is easy to grow, and has few needs. A sunny location with fertile soil will give good results, but the addition of compost is welcome when working the soil, and later as a side dressing. Sow the seeds directly into the soil, or a coldframe, spacing the seeds about a 1/2 inch apart. They can be transplanted when they are about 5 inches high without a problem. Don't allow kale to dry out at any point, but don't keep the soil soggy either. It likes a consistent moisture, and does better if kept weed free. When harvesting remove a few leaves from each plant rather than stripping one plant. When the plant flowers snip the blooms off and use them in salads. The leaves on the outside of the plants are the older ones, and they are younger as you go in towards the middle. Don't harvest just from the middle because this will shorten the life of the plant. Kale can be grown in containers as well as raised bed and traditional garden plots. The containers should be at least 8 inches deep and round for the best results. It's a good way to grow because the containers can be moved to a sheltered area during the cold weather. RECOMMENDED VARIETIES -
Vates Dwarf Blue Curled Kale:
A space saver, ornamental and delicious. The plants only reach about 12 inches in height and the leaves are the most tender after frost. -
Lacinato Kale:
An Italian heirloom that is known for a mild flavor and it's tolerance to hot and cold.
-
Red Russian Kale:
Another heirloom with grayish green leaves that turn purple in the cold weather. The leaves are very tender.
Discuss in our forums