Gilmour Flat Soaker Hose Review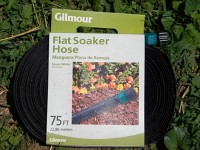 One thing I always try to preach to myself and to other gardeners is the importance of using soaker hoses in the vegetable garden. Soaker hoses are an ideal method for easily
watering your vegetables
by reducing water usage and directing water where the plant needs it most - at the roots. But I have a confession. I have always hated soaker hoses. You might be asking..."Well, why??". I have always found most soaker hoses to be a royal pain in the patoot. They come rolled up very tightly and when you try to uncoil them it's like fighting a 50 foot boa constrictor. And don't try to run a soaker around already established plants because they could easily become a victim of death by soaker hose. Don't even get me started on trying to roll the soaker hose up at the end of the season. It can be a nightmare just trying to roll it up so it can be stored. One thing is for sure - a soaker hose knows nothing about cooperation. Constant holes and
repairs
were another issue I ran into frequently with most soaker hoses I used. You might be thinking, "Well, aren't they supposed to leak?". Yes, but I'm talking about a hole developing in the soaker hose causing a spray of water coming that resembled something like Old Faithful. As I said, most of the time I felt there just wasn't any good quality, affordable soaker hoses out there. I didn't want to give up so I decided to try another type.
Finding A Solution
One day while scanning my local garden center, I came across a flat soaker hose that is supposed to be much easier to handle and easier to store. Yeah right. There's no way a soaker hose can be that easy to use. This soaker hose was the
Gilmour Flat 75ft Soaker Hose
. The first thing I noticed about this soaker hose that is different than the others I've used is that it's flat, instead of round like a normal water hose, and it's made out of a type of fabric-like material instead of rubber. It looked like it might be a lot easier to work with, and maybe it didn't spring any holes like the rubber types of soaker hoses. So I decided to give it a try.
Testing The Gilmour Flat 75ft Soaker Hose
I wanted to place a soaker hose around my tomato and summer squash plants to make it easier watering them this season. The first thing I did after unwrapping the soaker hose was to stretch it out down the length of my garden.
I immediately fell in love with how easy the
Gilmour Flat Soaker Hose
was to lay out. I was also impressed by the length of it. I typically buy 50 foot soaker hoses and was surprised at how much longer that extra 25 feet is. I was able to use the soaker hose to water not only my tomatoes and squash, but my pole beans and eggplant, too.
Because the Gilmour Soaker Hose is flat it made it very easy to get under already-established plants, like my yellow summer squash. Once I had the Gilmour Flat Soaker Hose laid out around my plants like I wanted, it was time to hook it up to the water hose and give it a test run.
The
Gilmour Flat Soaker Hose
worked like a charm. Immediately the water started slowly dribbling from the hose just like it's intended to. The great thing is I didn't have not one leak all season long. It is truly a "set it and forget it" garden luxury and one that I highly recommend for your vegetable garden!
Pros Of The Gilmour Flat 75ft Soaker Hose
Very easy to use and set up


Relatively inexpensive compared to other soaker hoses


Much lighter in weight than most rubber soaker hoses of the same length


Flat construction makes it very easy to roll up and store


Doesn't kink up and get tangled as much as rubber soaker hoses


Fabric materials easily bend around sharp corners, making it easier to set the hose exactly where you need it most


Long 75 foot length covers plenty of garden area
Cons of the Gilmour Flat 75ft Soaker Hose
Fabric material fades and becomes more "brittle" if exposed in the sun


Hose connectors on each end are plastic and seem a bit "cheap"
More Great Gardening Items
Discuss in our forums