My Tomato Plants – 3 Weeks Later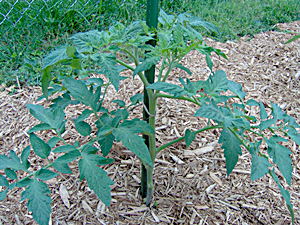 It has been a month since I planted my tomato plants, and I figured I would give an update on them. I planted 11 tomato plants in my garden on April 14th, 2009 and added two more tomato plants on May 3rd, 2009 for a total of 13 tomato plants. Some gardeners think having 13 plants is bad luck, but don't go getting superstitious on me (if I don't get any tomatoes this year, I will reconsidered my feelings on superstitions). Here's a picture of one of my
Big Beef tomatoes
right after planting on April 14th:
I planted my tomatoes deep - only leaving about 3 inches sticking up out of the ground. For more on how I planted my tomatoes, please check out
How To Transplant Tomatoes
. So after three weeks of growing how do the tomatoes look now?
As you can see in the picture the tomatoes have grown to be about a 12 - 16 inches high so far. I have also added some mulch to the garden. I have never used mulch in a vegetable garden, but decided to give it a try. I will continually update how the mulch is doing....we'll see! Here's a list of my tomato plants and how many I have planted for each variety:
Here are more pictures of my tomatoes and some other plants I have in the garden:
I would love to hear about your tomato plants as well, so feel free to leave a comment!
Heirloom Tomato Seed Favorites
Discuss in our forums