Discussion Starter
·
#1
·
Spring has finally showed up in my backyard! It's been raining for 3 days and it gets colder each day but I couldn't wait any longer to get started so I sowed some carrots, radishes, mustard greens and kale in the mud yesterday.
I am happy to say that my potted fruit trees are budding (happy dance). I have some itty bitty paw paws and a plum tree but they always look dead until later in the season.
While I was doing my garden stuff I couldn't help but notice the smell of garlic in the air. So I tracked it down (I planted garlic last fall in several places to see how well it would do and also as part my haphazard crop rotation routine and then covered it all with hay and row covers).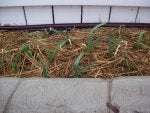 I also have more crab grass than ever. I need to figure out how to control that stuff without chemicals. I wonder if it's edible. LOL