Lookin' good, Errol! I've got some going in the (unheated) greenhouse-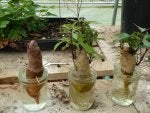 They're not as far along as yours! And I've had them going since late Feb.
It's been too cold, I should have brought them in. What variety SP do you have? I have the Golden Nugget (I think that's what they are, I got them originally from The Barefoot Farmer, Jeff Poppin) and Japanese. I hope to have at least 20 or 30 to plant come June. What are you going to do with all of those slips?